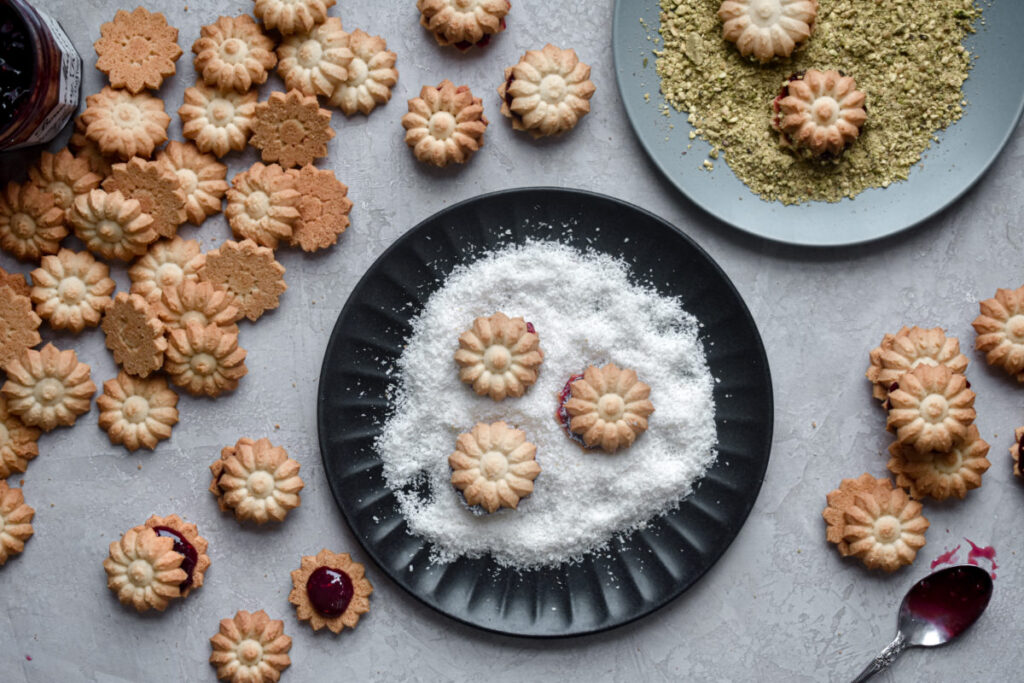 These butter cookies are literal perfection. We call them Petit Four. Petit Four is typically known as bite size dessert cakes filled with jam. Some people even make savory versions of them. It's crazy how different cultures will associate a name with a completely different dessert. Being arab, Petit Four as we call them, are known as butter cookies that are filled with jam or sweet filling and dipped in chocolate or toppings like pistachios and coconut. The cookies are butter soft and melt in your mouth. The filling gets slightly hard as it sits in the cookies and the cookies absorb some of the moisture and hold just a little better.
The cookies come together fairly quickly. The key is to make sure you use softened butter and beat the wet ingredients until you have a nice thick cream. After you add the dry ingredients, the dough will come together quickly. It'll be a very wet and soft dough but it will not be sticky.
I use the OXO Cookie Press to get perfect cookies. There are so many discs to choose from and they give you perfectly uniform cookies. Make sure to use the press on a clean sheet pan without any oils or parchment paper. The press sticking to the pan will help release the dough onto the pan. After you bake the cookies, you can stuff them all the same day or store them empty in a sealed container and stuff them when you're ready to eat them so they don't go stale. These make perfect cookies for the holidays. I like to make them during Ramadan and Eid and give them to family and friends with some of my Anise Cookies. They make for perfect little gift boxes and the filling options are endless. I hope you enjoy this recipe as much as I do.
Print
Petit Four Butter Cookies
The softest melt in your mouth butter cookies. Stuff them with nutella and enjoy one of the best cookies you'll ever have!
Author: Nur Ashour
Prep Time:

30 Minutes

Cook Time:

15 Minutes

Total Time:

45 minutes

Category:

Desserts
1/2 cup Softened Butter
3 tbsp Vegetable Oil
100 grams Granulated Sugar
1 Egg
1 tsp Vanilla Extract
250 grams Flour
80 grams Cornstarch
1/2 tbsp Baking Powder
Fillings and Toppings of Choice
Instructions
Using a paddle attachment or a handheld mixer, beat the softened butter, oil, sugar, egg, and vanilla until you get a thick fluffy cream.
Add the dry ingredients and mix till incorporated into a soft dough.
Using a cookie press, press out your cookies onto a bare sheet pan. Bake at 355 F for 14-20 minutes or until golden brown. This will vary from oven to oven so start keeping an eye on them at 10 minutes and just make a note of how long it takes to bake them.
Once they're fully baked allow them to cool almost completely on the pan. Shift them slowly so you don't break them.
Match each cookie with a pair and line them up for filling. I typically put them side by side with one pair facing down and the other up so I can easily fill and then top them.
Refrigerate any jam filled cookies and enjoy within a few days. The cookies will get softer as they sit so try to stuff them the day you want to enjoy them. You can store the empty cookies in a ziploc or sealed container for up to 10 days before filling them.
Notes
You can use any fillings and toppings you choose. I typically do raspberry preserves and nutella with pistachios and coconut. Get creative with your fillings. Use a piping bag or ziploc with the corner snipped to make filling them easier. After I fill amd sandwich, I dip the raw filling edges into ground pistachios or coconut.
I rarely do recipes with gram measurments because for some reason people think cups are easier. This recipe is extremely precise. This will ensure you always get the exact butter soft cookie. Just make sure to zero you scale appropriately before measuring anything. Trust the process and don't add more flour. The dough will be soft, but as long as your hands are dry and you mixed the wet ingredients completely in, it shouldn't be sticky.
Keywords: cookies, butter cookies, press cookies, holiday cookies, petit four, jam, nutella, ramadan, eid