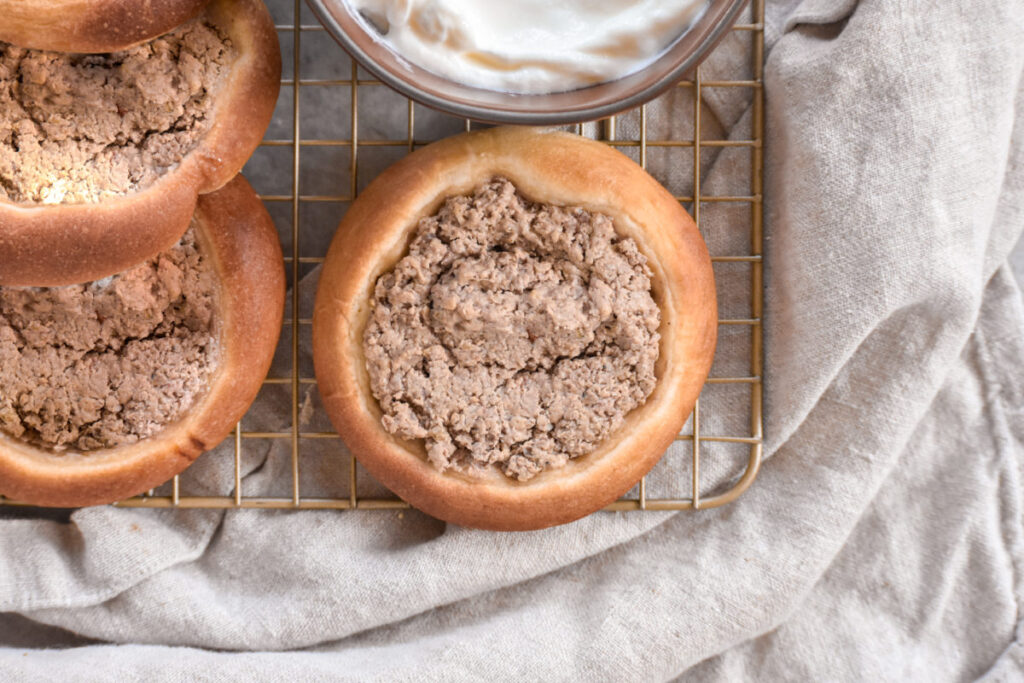 Sfeeha. This simple and classic meat pie is so versatile. Serve it for breakfast. Serve it as an appetizer. Or even make a salad and serve it as a dinner. It's one of my go tos for an easy and quick dinner. And I almost always have a batch of them in my freezer. It's so straightforward to make, and absolutely delicious. I simplify it even more by using Rhodes Dinner Rolls frozen dough. Of course, you can make your own dough, but this is just so easy and convenient, and I'm all about working smarter rather than harder.
The meat mixture for the sfeeha is very similar to that of Arayes. My mama makes the mixture as a tomato base or a tahini base. I personally make a mix and it tastes phenomenal!
I'm posting the recipe according to using ready dough. If you are making your own, prepare your dough and cut it into balls. Allow them to rise and then follow my recipe! I hope you enjoy these as much as we do!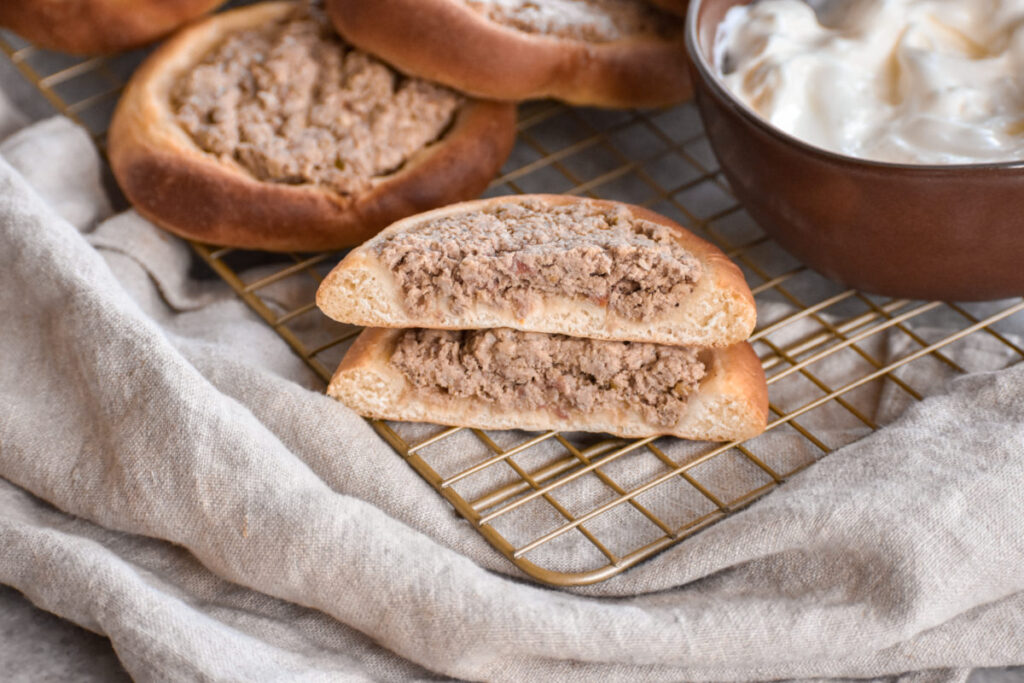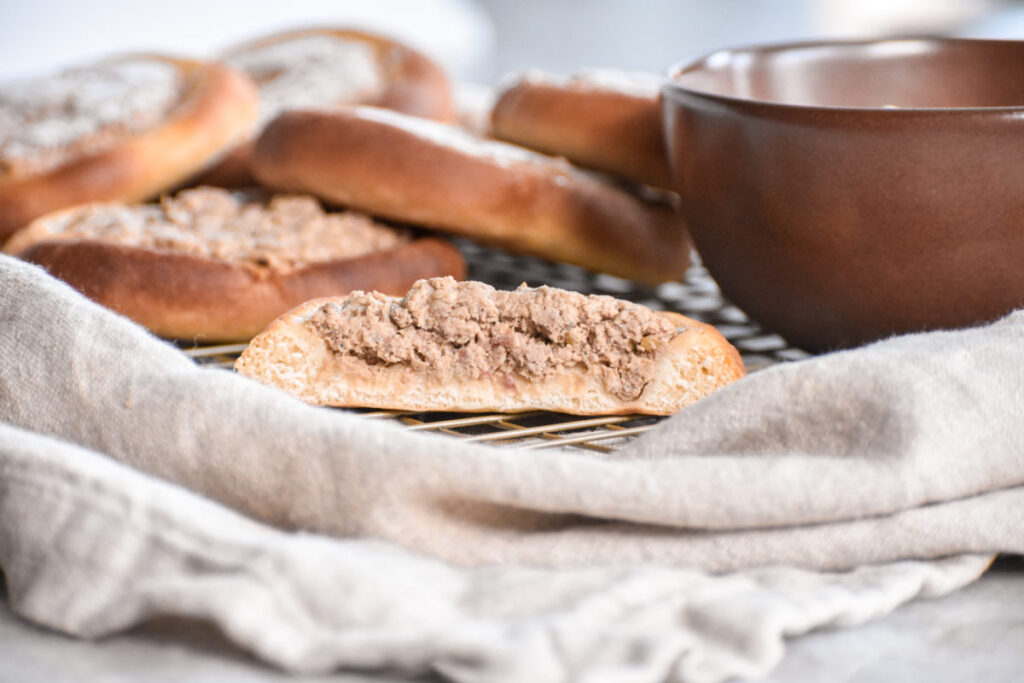 Print
Sfeeha – Arabic Meat Pies
Arabic meat pies, known as Sfeeha, are mini flatbreads with a tomato and tahini meat mixture. So flavorful, and so easy to make!
Author: Nur Ashour
Prep Time:

1 Hour 30 Minutes

Cook Time:

15 Minutes

Total Time:

1 Hour 45 Minutes

Yield:

2

4

1

x
24 Dough Balls
1 lb Ground Beef
1 Onion
5 Cloves Garlic
1 Jalapeno, to taste
1 Tomato
2 tsp Salt
1 1/2 tsp Black Pepper
1 tbsp Pomegranate Molasses, optional
1/4 cup Vegetable Oil
1/3 cup Tahini
1/4 cup Yogurt
1/4 cup Lemon Juice
Pine nuts, optional
Instructions
Prepare your dough ahead of time and cut into 24 balls. Allow to rise. I use the premade Rhodes Dinner rolls. If you're using them, take out 24 pieces and place them on a parchment lined sheet pan. Spray them with oil and cover with plastic wrap. Allow them to rise in a warm place for about 90 minutes. When they're almost done start preparing your meat mixture.
Preheat your oven to 450 F.
Roughly chop your onions, and jalapenos. In a food processor, finely mince the onion, garlic, and jalapeno. Add the roughly chopped tomato, salt, and pepper. Mince again.
Add the molasses, oil, tahini, lemon juice, and yogurt. Mix again. Add the ground beef and pulse just until combined.
Spread your dough balls leaving a little edge. Place 1/4 of meat mixture onto each one and spread it slightly. If you're using pine nuts push a few pieces onto the top so they stick to the filling.
Bake at 450 F for 10-12 minutes until golden brown, and the meat is cooked through. The meat is soft. If you're hesitant you can check with a meat thermometer. My meat registered at 165 F at 10 minutes and then at 180 F at 12 minutes. I baked for 12 minutes so the dough was golden.
Enjoy right away with some yogurt on the side!
Notes
You can refrigerate or freeze these for later. Refrigerate for up to a week in a ziploc bag or tight sealed container. I place napkins to absorb any moisture in the fridge. Reheat or enjoy cold.
The molasses is optional, but adds a great tartness to it!
If you want to freeze them, freeze in between layers of parchment so they don't stick to each other. Freeze for up to three months. Thaw in the fridge overnight or on the counter for a couple hours. Reheat at 325 F until warmed.
Keywords: molasses, sfeeha, meat pies, arabic, dinner, lunch, appetizer