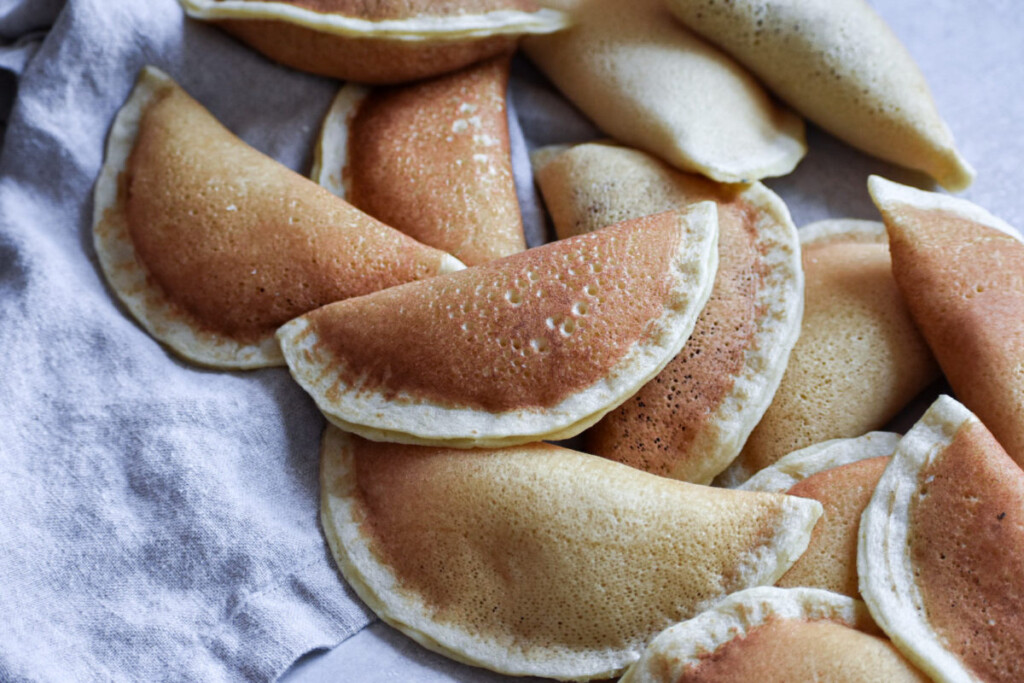 We all wait for Ramadan so we can have some amazing Atayef, They may only make their appearance once a year, but they're worth the wait.
Whether you say Atayef or Qatayef, we can all agree on one thing. They're not pancakes. They may look similar, but this light and fluffy dessert is the furthest thing from a dense pancake.
This popular Middle Eastern dessert typically makes its grand appearance during Ramadan. In Jordan and Palestine, street cart vendors will fill the streets with piles of these unfilled desserts. You can buy them by the pound and take them home to fill with your favorite stuffings. Every corner store or bakery will have their variety of these for sale during Ramadan. 
Being in the states, we don't have that luxury. Quite honestly, I think the ones we make at home are SO much better. They are a little finicky to make, but they're worth their trouble. I'm going to walk you through it step by step, as well as include some troubleshooting photos and tips to make sure your Ramadan includes this popular dessert all month long. Keep a lookout, I may host another live class on how to make these in the next couple weeks! Check out some of the other Ramadan Recipes I have too!
Print
Atayef, Qatayef, not Pancakes
The star of the show every ramadan. These light and fluffy Middle Eastern "pancakes" are stuffed with cheese or walnuts and then drenched in simple syrup. 
Author: Nur Ashour
Prep Time:

45 Minutes

Cook Time:

45 Minutes

Total Time:

1 Hour 30 Minutes

Yield:

36

Category:

Desserts
Batter
3 1/2 Cups Warm Water
1 1/2 Cups Cold Milk
3 Cups Flour
1 1/2 Cups Fine Semolina
1 tbsp Baking Powder
1 tbsp Sugar
1/2 tbsp Yeast
1/2 tsp Baking Soda
*Up to 1/2 cup Additional Water, as needed.
Ghee, for baking.
Filling
1 lb Sweet Cheese
1 lb Fresh Mozzarella
3 Cups Walnuts
3 tbsp Sugar
1 tbsp Cinnamon
Simple Syrup
2 Cups Water
3 Cups Sugar
1/2 tbsp Lemon Juice
Instructions
Atayef
Using a blender, pour the water and milk in first. Add all the dry ingredients, except the Baking Soda. Blend for 20 seconds until incorporated. Don't overblend. See notes for using an immersion blender. 
Allow the batter to rest for 20 minutes, meanwhile preheat your griddle to 375 F.
Once rested, add the baking soda, and 1 tbsp water, blend for 5 seconds to mix it in. If you overblend your batter will need to rest again. 
Pour your atayef batter onto your griddle in the desired size you want. Once it bubbles and drys remove it from the griddle. Don't flip it to cook the other side. Instead, flip it onto a towel or pillowcase. You want the bubbly side down so it doesn't dry out. Allow to cool.
Repeat until you finish the batter. 
Fillings
Cube your sweet cheese and pulse it with the slices of fresh mozzarella. Set aside.
Finely chop your walnuts and mix in the cinnamon and sugar. Set aside.
Simple Syrup
Pour the water into a saucepan. Turn the heat on medium high. Pour the sugar into the middle of the water so it doesn't splatter onto the sides of the pan. Allow the mixture to come to a boil. 
Squeeze in a 1/2 tbsp of lemon juice. Allow the syrup to boil on a low heat for an additional 10 minutes. Set aside to cool. 
Stuffing and Baking
To stuff your atayef, fold it in half, bubble side in. Pinch the seams together halfway up so you are left with a cone like atayef. Stuff with desired filling and then pinch the seams the rest of the way up. 
Rub each Atayef with ghee or clarified butter. 
You can deep fry, saute or bake them. I prefer baking. Bake on a sheet pan at 450 F for 8-10 minutes, flipping halfway through. Don't over bake so the cheese doesn't ooze out. 
Once they're done, drench them in simple syrup and enjoy!
Notes
Batter
The batter for atayef is finicky to work with. Here are some tips to help you perfect it:
Your batter needs to rise for 20 minutes. If you pour a test atayef and its not bubbling it needs to rest more. 
9 out of 10 times it will need to be thinned out. If your test atayef has bubbles but their few and far apart, you need to thin out the batter. It should be thinner than pancake batter, but not soupy. Add warm water a couple tbsp at a time and test it out to see if it still needs to be thinned. You'll get small uniform bubbles if it's perfect. 
If you're getting small holes going though your atayef, your heat is probably too high. Try dropping the temperature of your griddle by a few degrees. 
If your bubbles are huge and going through the atayef, your batter rose too much. You'll know because the batter will have expanded in size and sound hollow when tapped against a hard surface. Reblend your batter for 30 seconds to deflate it. 
I like to make my atayef in the blender. Always pour your liquid ingredients first. That way none of the dry ingredients get stuck on the blades and don't incorporate correctly.
If you're using and immersion blender, pour your wet ingredients into a deep bowl or measuring cup. While your blending, slowly pour in the dry ingredients. 
It's important you add the baking soda right before pouring. It helps with the small uniform bubbles. Adding it early on can cause your batter to over rise. 
Don't blend every time you add extra water. You will deflate the batter and it will need to rest again. Instead, mix it in gently. 
I use 1/4 cup dry measuring cup to make my large atayef. I fill it 3/4 up. 
I always pour the liquid ingredients on the bottom of the blender and then the dry. Sometimes, I'll sandwich the dry ingredients. This ensures everything is mixed and nothing is stuck to the blades. 
Filling
I use a mixture of sweet cheese and fresh mozzarella. The fresh mozzarella is not salty and adds the stretch for that amazing cheese pull. The sweet cheese is the perfect flavor. If you can't find sweet cheese feel free to use Ackawi, Panela or Queso Fresco. I Would recommend soaking the ackawi and panela so you can remove the excess salt. 
You can pulse the walnuts on the food processor, just don't over chop or they'll turn into crumbs. You also don't want huge pieces of walnuts, or they'll tear through the atayef.
Baking
Rub the atayef in ghee or clarified butter. This will help it crisp up in the oven and not stick to your sheet pan. 
If you can't find ghee, just melt some butter and let it sit for a few minutes in a clear container. It will separate into a yellow melted butter and a white liquid on the bottom. Only use the top section of it. 
You can saute, bake, fry, or air fry your atayef. I prefer baking. Rub the atayef in ghee regardless of your cooking choice. The only time I don't rub with ghee is if I'm deep frying. 
Storing or Freezing
If you aren't cooking your atayef right away, rub it in ghee and place it on a paper towel lined sheet pan or ziploc bag. Cover well and refrigerate for up to three days. The paper towels will absorb excess moisture in the fridge. 
If you're freezing you have two options. Place your ghee covered atayef inside a ziploc bag. Make sure they're not touching or they'll stick together. Your second option is to Freeze them on a sheet pan until they're frozen solid. Pour them into a ziploc bag. It won't matter if they touch because they're already frozen. They freeze for up to three months. Just thaw on a sheet pan thirty minutes before baking. 
Simple Syrup
Pouring the sugar into the water prevents your syrup from crystallizing. You can also add a drop of corn syrup. 
The lemon juice makes the syrup tacky. 
Keywords: arabic, dessert, ramadan, atayef, stuffed, cheese, walnuts