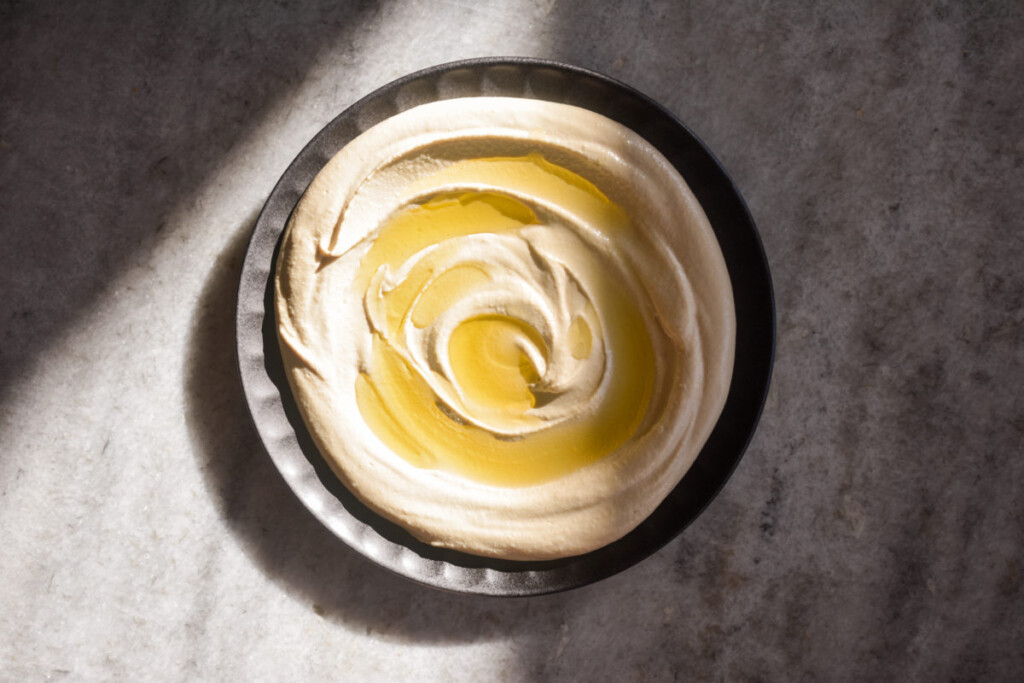 Hummus is to arabs what pizza and pasta is to Italians. You wouldn't as an arab for an authentic lasagna recipe, would you? I feel like Hummus has gotten super popular the past few years. I mean, what's not to love? It's absolutely delicious, and is good with literally everything. And it's good for ya. But, I'm really sick of seeing the variations of it. I get that all these brands of store bought hummus aren't authentic so sometimes they're not smooth or they just taste funny. But I've seen chocolate hummus. I've seen freaking apple pie hummus. Come on now.
So I'm here to show you how to make an authentic hummus. The real deal. It's so creamy. So smooth. So perfectly balanced. And the best part, I have exact measurements for you. All the details down below!
Print
Authentic Hummus
The only Hummus you'll ever need. An authentic recipe that's so smooth and creamy. And the flavor is PERFECT. Plus, the recipe is exact!
Author: Nur Ashour
Prep Time:

15 Minutes

Cook Time:

45 Minutes

Total Time:

1 Hour
2 Cups Dry Garbanzo Beans
1 tbsp Baking Soda
1 1/2 Cups Tahini
3/4 Cup Lemon Juice
1/4 Cup Vegetable Oil
1 tbsp Salt
1 tsp Citric Acid
6 Ice Cubes
2 Cloves Garlic, optional, SEE NOTES
Instructions
Soak the garbanzo beans overnight (12 hours) in room temperature water. Make sure to put plenty of water because a lot of it will be absorbed. I like to soak it in the pot I'm gonna cook it in. Always a fan of less dishes.
After 12 hours, bring the beans to a boil. Make sure there's at least a couple inches of water covering them. Cook until the beans are very tender. I used a pressure cooker and cooked them for 15 minutes at full pressure.
Once they're fully cooked add the baking soda and let it simmer for 5-10 minutes.
Strain the chickpeas into a bowl and soak in cold water for 5-10 minutes. The peels will all float to the top. Strain or remove as many of the peels that you can. I rub the chickpeas in my hands so the peels come loose then skim them all off. Strain the peeled chickpeas and refrigerate them until they're cold.
Once the chickpeas are cold, pour them into a blender or food processor. Add the tahini, lemon juice, vegetable oil, salt, citric acid, ice cubes and garlic if you're using it. Blend until smooth.
Pour into an airtight container and store in the refrigerator for up to 10 days. Serve with olive oil.
Notes
I put garlic in the ingredients list, but it is optional. I personally only add garlic if we're going to be eating the hummus the same day. Once it sits in the fridge the garlic will change its flavor and even make it go bad faster. Another option would be to mix in minced garlic with the hummus the day you eat it!
Some people like to reserve some whole chickpeas for decoration, If you want to do that, add an extra 1/2 cup of chickpeas. This recipe is made for you to blend the full 2 cups to get the perfect consistency.
The Baking Soda will help loosen all the peels. Peeling them is what's going to give you a smooth hummus.
I pressure cook my garbanzo beans. You don't have to. You can just cook them in a regular pot. Make sure to skim ALL the foam before closing the pressure cooker so it doesn't explode.
You can use vegetable, avocado, or olive oil. I just prefer vegetable.
Refrigerating the chickpeas ensures it'll be smooth. The ice cubes also make a big difference.
I like to add citric acid because it adds more tartness without thinning it out too much. I definitely recommend getting it.